By Time Out London Food & Drink
Whether you're after caffeine, cake, or just a spot to plug in your laptop – London's cafés and coffee shops are little havens. From Indian chai, to brunch-time yoga sessions, to drip fed Chemex filters – it's all here. We've sipped our way around the city to round up the very best. Watch our video below on five lovely locations for a spot of coffee
Best coffee shops in London
Homerton
With just five tables inside and a few seats out front, 46b in Homerton is small and homespun, although it comes with bags of charm and very good coffee. Espressos are skilfully made with Square Mile's beans. E5 Bakehouse supplies the bread for sandwiches and toasties, while cakes are baked in-house.Read moreRestaurants, Cafés
Shoreditch
Enduringly popular for its unhurried atmosphere, lovely service and great food, Allpress also makes terrific coffee – from textbook espresso-based brews to various filter concoctions. Outstanding baked goods and imaginative sandwiches add to the all-round appeal of this popular corner spot – a fixture of the Shoreditch scene.Read moreADVERTISINGRestaurants, Coffeeshops
Hammersmith
A teeny, tiny coffee shop making big waves in Hammersmith, Amoret (opposite the tube station) is perfect for commuter-time grab 'n' go. It also has plenty of coffee-making nous and baristas are keen to impart their knowledge to a receptive crowd of caffeine junkies. Who said bigger was better?Read moreRestaurants, Coffeeshops
Hammersmith
On a mission to bring some Melbourne magic to the streets of Hammersmith, this cool Antipodean café brews up some terrific stuff. They use Square Mile's Red Brick beans for espresso and serve inventive brunch-style food – their kimchi and cheddar toastie is a best-seller. Just add some ace Aussie craft beers.Read moreSPONSORED LISTINGRestaurants
South Kensington
The Kensington branch of the Coco Momo mini-chain.
Venue says Classic café/bar and brasserie, with heartfelt food, drinks and soulful service. Coco lunch, £9.50: homemade soup with salad or a sandwich.Read moreADVERTISINGRestaurants, Cafés
Farringdon
The owners of this gorgeous-looking Clerkenwell joint want us all to 'make friends with food' – and we're certainly sold on the place, with its low-key backstreet vibe, pretty plants in pots and nutritionally balanced gluten-free cooking. Top marks for AFC's luscious cakes and on-message drinks too.Read moreRestaurants, British
Chelsea
The swanky in-store café attached to Sloane Street's swish Boutique 1 serves the kind of healthy menu that avoids existential crises when it comes to trying on clothes (kale quiche, broccoli and goat's curd salad etc). Allpress coffee goes well with home-baked cakes and other sweet pleasures; otherwise, hit the cocktails.Read moreADVERTISINGRestaurants, Coffeeshops
Ravenscourt Park
With branches in Ealing, Putney and East Sheen, Artisan is on the up and this Stamford Brook outlet is a credit to the neighbourhood with its pleasant vibe, enormous windows and down-home furnishings. Close your eyes and you could be in Shoreditch as you sip a perfect espresso made with Allpress beans.Read moreRestaurants, Coffeeshops
Aldgate
Not far from the Gherkin, Association is the gem in the City's caffeinated crown – a superlative spot noted for its surprisingly hip industrial interiors and patterned table-tops. Coffee comes from Workshop and Square Mile (where else?), and the place is also famed for its ace Portuguese custard tarts.Read moreADVERTISINGRestaurants, Cafés
Fitzrovia
Occupying a former men's pissoir, Attendant's coffee wakes you up before you go-go. Aromas of roast arabica and scented candles waft up from the subterranean cavern, which still boasts the original Victorian urinals. Beans are house-roasted and there are made-to-order sandwiches, hot snacks and decidedly decent cakes too.Read moreRestaurants, Cafés
Lea Bridge
It might focus much of its attention on cocktails, booze and a mish-mash of Israeli/Levantine food, but this late-night Clapton corner café also has spotless caffeine credentials. Suppliers are conscientiously sourced, small-scale or local, making Bernstein's a superlative address in an area already flush with hip little hubs.Read moreADVERTISING© Michael FrankeRestaurants, Cafés
Wandsworth
As effortlessly chilled as they come, Birdhouse is the Clapham coffee bar of your dreams – everything is intended to soothe, staff are lovely, the sandwiches are great, and their warm banana bread is nigh-on irresistible. Partnered with a perfect espresso, it's a guaranteed cure for those rainy-day blues.Read moreRestaurants, Global
Parsons Green
Fulham's chattering classes have a new HQ in the shape of Boys 'n' Berry – a bang-on-trend café focusing on wholesome food and coffee, with plenty of cake on the side. They specialise in double-shot organic brews (from espressos upwards) with matcha lattes and almond milk offered as diet-sensitive alternatives.Read moreBook onlineADVERTISINGRestaurants, Cafés
East Dulwich
The trendiest bakery in East Dulwich and the first local venue to specialise in the slow-fermented sourdough breads beloved of hipsters. Obviously, the staff of life is the main attraction, although provenance is the key to everything including the coffee, tea, cheese and meat. There's a cracking booze list too.Read moreRestaurants, Cafés
Walthamstow
A serene Antipodean hangout (with some Scandi-chic add-ons), Bühler & Co is a brunch beacon for the baby-toting denizens of Walthamstow and a popular stop-off for coffee too. Good provenance also abounds across the sodas, booze and excellent veggie/vegan menu – welcome to the wholesome 'good life'.Read moreADVERTISINGRestaurants, Bakeries
The Borough
A little bread haven on Flat Iron Square, Burnt Lemon puts the emphasis firmly on long-fermented organic sourdough breads, pastries, cakes, pies and toasted sandwiches – all loaded with seasonal ingredients. Coffees and other soft drinks are par for the course. A pleasant pit-stop with a well-worn aesthetic.Read more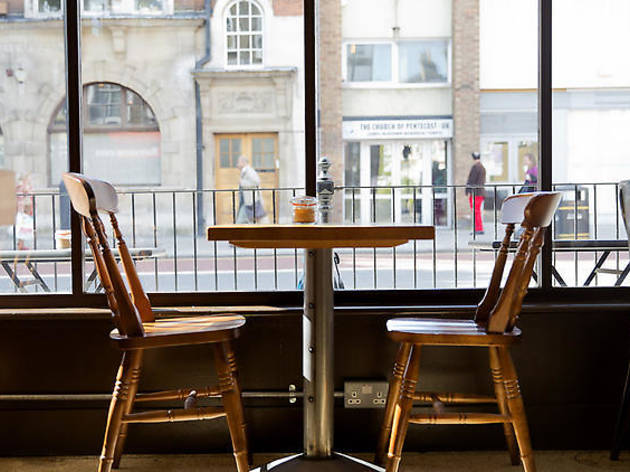 © Veerle Evans
Bread and Bean
From the quirky décor to the massive windows giving a full view of the Archway scene, B&B is perfect if you're looking for a leisurely break. There's just one blend of coffee on offer, but it's decent enough – especially with back-up from cooked breakfasts, sandwiches, salads and home-baked cakes.ADVERTISINGRestaurants, Coffeeshops
Stoke Newington
In the courtyard of Dalston's creative hub, this Aussie-owned gem mixes cosy industrial/studio vibes with a serious attitude to coffee. House beans are sourced from Alchemy, guest names appear on rotation and there's an equally alluring Antipodean-style menu, plus there are ceramic exhibits and weekend brunch/yoga sessions for the wholesome extroverts.Read moreRestaurants, Contemporary European
Hackney
North Hackney's latest Instagram paradise is achingly stylised but incredibly well curated – it's a pastel-toned brunch-based photo op complete with retro furnishings and a Miami-themed menu. Their strawberry pop tarts and waffle burgers (heart-shaped, of course) are a standout, while Workshop coffee comes with cute sugar 'cubes'.
Venue says Now serving milkshakes and ice cream sundaes!Read moreBook onlineADVERTISINGRestaurants, Coffeeshops
Farringdon
A mere 10 minutes' stroll from Leather Lane's caffeine mecca, Catalyst is a serene and stripped-back Scandi-style drop-in with all-day appeal. Coffee-wise, they know their stuff and there's good food too (sweet and savoury combos). What's more, Catalyst opens early and closes late on cocktail-fuelled Thursdays and Fridays.Read moreRestaurants, Cafés
Turnham Green
Here's a strange one: a Chiswick coffee house with a lounge full of working pinball machines in the basement. Wannabe wizards can try their luck here or stay with the high-quality coffees from Workshop, Allpress and suchlike. Edible treats include stuff from Kooky Bakes, Rinkoff pastries and their own sausage rolls.Read moreADVERTISINGTricia de Courcy LingRestaurants, Cafés
South Hackney
Brown, buzzy and never overheated, Climpson's on Broadway Market has the same qualities as its excellent flat whites, while helpful blackboard notes on the blends from its own roastery ram home the message: coffee first, conversation second. With retro cakes and avocado on sourdough also available, it's perfect for Saturday nights and Monday mornings.Read moreJason LoweRestaurants, Coffeeshops
Lambeth
Even on the time warp that is Waterloo's Lower Marsh, Coleman's feels like a caff from another age – so embrace the quiet life while the radio provides a warm rumble in the background. There are rustic ceramics for sale, oatcakes on the menu and a whole wall lined with their own coffee beans.Read moreBook onlineADVERTISINGRestaurants, Coffeeshops
Covent Garden
Betwixt Seven Dials (food heaven) and Leicester Square (food hell), Coffee Island is the first London outpost of a deceptively decent Greek chain. They've done their homework where it counts, with five coffees on offer via a host of brewing variations – note the line-up of gadgets and home-barista gear.Read moreRestaurants, Cafés
Camden Town
With seating for ten people, minimalist interiors involving reclaimed scaffolding boards and house beans from Monmouth, the Coffee Jar is a Camden favourite. The brews are spot on, and the food is focused: sandwiches, brunch plates, cakes and pastries. Just add friendly service and you've got a winner.
Venue says We drink coffee. We bake cakes. We do breakfast, lunch and treats! Come visit us in Camden!Read moreADVERTISING© Fox and FavourRestaurants, Cafés
Aldgate
Seating is limited to just six people and it isn't strong on comfort, but this is a City spot to cherish if you value well-curated coffee beans and expert brewing. The house espresso blend (dubbed 'Exhibition') comes from Colonna, and guest beans feature regularly. Food is simple but carefully done.Read moreRestaurants, British
Greenwich Peninsula
Home-grown and home-produced is the mantra at Stevie Parle's Greenwich shrine to all things Craft. The setup includes a swish restaurant and cocktail bar, but the bright ground-floor café is our favourite bit, with lunchtime salads plus sourdough breads, pizzas and cakes from the oven to go with excellent Craft-roasted coffee.Read moreBook onlineADVERTISINGRestaurants, Coffeeshops
Camberwell
Brewing up the good stuff daily, this little box of a coffee shop in Camberwell is more spartan than other objectively 'hip' venues in the area, but it's extremely well appointed (in an arty sort of way). The own-brand coffees are excellent, while food spans everything from avo toast to some very fine cakes.Read more© Guy DimondRestaurants, Cafés
Farringdon
DC&SA now has branches all over town, but this is the stripped-back original  – a place that gets rammed during the week and chills out at the weekends. All the coffee begins as espresso and it's always well made, while the food is basic but of high quality – assorted sandwiches and moreish baked goodies.
Restaurants, Coffeeshops
Ealing
Ealing's Electric Coffee Co. has become a west London classic, touting some serious stuff out in Zone 3. All the beans (direct-traded) are processed in the owners' Sussex roastery and the whole show celebrates the intricacies of coffee-making. What's more, there's a tempting menu of seasonal light bites too.Read moreRestaurants, Coffeeshops
London
Adjoining the offices of K2 Partnering, this slick Fulham coffee shop is a looker with its granite-flecked concrete counter, bare masonry and zippy designer lighting. Honest tucker includes sandwiches, custard tarts, etc, while coffee is from Winchester's Roasting Party. Being an Aussie set-up, flat whites are the go-to.Read moreADVERTISINGRestaurants, Coffeeshops
Bloomsbury
Capacity doesn't make it far into double digits at this small but perfectly formed shrine to straight caffeine. Choice may be minimal too (espresso-based coffees, soup, a few sandwiches and cakes), but we love Bloomsbury's ER – especially when we can sit outside in fine weather. Smiling staff show off their technical skills with modesty.Read moreRestaurants, Coffeeshops
Clerkenwell
Much of the emphasis is on the restaurant and cocktail bar, but Grind's dedicated espresso bar is a shoo-in for Exmouth Market's caffeine heads. Slip in for weekday breakfast or weekend brunch, pump up your afternoon or enjoy a post-work warm-down over a long black or flat white.Read moreADVERTISING© Issy CrokerRestaurants, Cafés
Notting Hill
If the very idea of 'healthy eating in Notting Hill' fills you with dread, fear not: this branch of the cute café mini-chain from Aussie-born 'farm girl' Rose Mann is a little ripper. Colourful interiors and non-stop sunny service are matched by a healthy menu bursting with vibrant, zingy ingredients. Coffee and cake is a bit different too. Read moreRestaurants, Cafés
Brixton
Seats with a view of Brixton's Village Market are the ones to grab at this egalitarian corner café. Federation buys its beans from Curve Roasters in Margate, and they also sell coffee-related hardware. To eat, there are breads, cakes, pasties and sandwiches from local suppliers. It's all very neighbourly.Read moreADVERTISINGRestaurants, Cafés
Kentish Town
It isn't surprising that this tiny set-up has won the hearts and minds of Kentish Town's coffee brigade. Inside, there's just one long(ish) table for communal sipping, but ample space for take outs. Beans come from dependable sources, but you could easily come here just for the vegan food.Read moreRestaurants, Cafés
Wandsworth
Forget beachcombing, this oddly named Antipodean-style café by Wandsworth Common is all about healthy eats and artisan drinks. Expect everything from coco-melon bircher muesli to 'chorizo scramble', alongside cakes, pastries, Allpress coffee, tea by T2, turmeric chai and matcha lattes, Karma colas and much else besides.
Venue says Passionate about coffee? We hold fun, evening 'barista basic' courses each month. Find out more and book your spot via our website.Read moreBook onlineADVERTISINGRestaurants, Cafés
Chalk Farm
Feeling frazzled after trying to shop at Camden Market? No worries. This comforting café from Flour Station's pastry traders will soothe and satisfy with its pleasing sarnies, cups that cheer and sensible lunches – do try the soups and charcuterie boards.Read moreRestaurants, Bakeries
Stratford
A legend on Borough Market and beyond, family-run Karaway is now selling its incredible award-winning rye breads and Eastern European cakes in a tiny café tucked away in Westfield Stratford. The choice is bewildering, but sampling is encouraged and it's all backed up by decent coffee and sandwiches.Read moreADVERTISINGRestaurants, Cafés
Frognal
Diminutive in stature but huge in quality, this dinky coffee shop from Seoul-born Sungjae Lee right by Finchley Road tube is all about well-sourced espresso and its brewed derivatives, backed by a modest assortment of pleasing pastries and other edible bits 'n' pieces. Stop press: Japanese lunches are incoming!Read more© Ben RoweRestaurants, Cafés
Old Street
Whether you're on two wheels, four wheels or on foot, this friendly Old Street hangout attached to a bicycle repair shop is 'wheely' good – sorry! All-comers park up here (especially at the weekend) and the whole place is a joy with its ample food and knowledgeable baristas.Read moreADVERTISINGRob GriegRestaurants, Cafés
North Kensington
A tiny, eccentrically decorated place with total commitment to quality across the board, Lowry & Baker on Portobello Road is a local godsend. Food is served on a delightful jumble of unmatched crockery, but the perfectly brewed coffee – with beans from Monmouth – comes in well-warmed white cups.Read more© Sequoia ZiffRestaurants, Coffeeshops
Camberwell
Coffee, craftsmanship and community come together at Lumberjack – a dinky Camberwell café stuffed full of hand-printed tea towels, ceramic mugs and hand-crafted furniture. Naturally, the ethos extends to the coffee from Peckham's Old Spike Roastery, teas from Good & Proper and fancy cakes from Cat Food London.Read moreADVERTISINGRestaurants, Cafés
King's Cross
Maple & Co's King's Cross branch promises two floors of healthy satisfaction – order downstairs, eat upstairs. Well-made caffeine brews and sweet stuff from the gluten-free bakery quell those 'coffee and cake' cravings; otherwise, it's all about feelgood salads and lunch boxes, backed by cold-pressed juices, smoothies and new-age drinks.Read more© Simon LeighRestaurants, Cafés
South Bank
Monmouth is the grandmama of high-class UK coffee and this is its self-assured public face in Covent Garden. Nothing here speaks of flashiness or trendiness. It's all about the caffeine and the well-chosen food that goes with it (breads, pastries etc). Espresso and its derivatives are properly made, but brewed coffee is the real star.Read moreADVERTISINGRestaurants, Coffeeshops
Aldgate
Unsuspecting tourists beware: this robotic and clinical coffee haven near Monument is strictly for serious caffeine junkies. Don't come here to grab a tepid cappuccino on-the-go. With its laboratory-style equipment, future-pop coming from the speakers and global beans listed on a till-side iPad, New Black is the new order.Read moreRestaurants, Vegetarian
Barnsbury
More than a veggie haven, New Roots Café on Cally Road is also a community-minded space that donates all profits to two homeless shelters – so you know where your money is going. The food's local, while drinks include real Indian chai, hand-roasted filter coffee and mint tea. Prices are rock bottom, but the quality's sound.
Soho
An oasis of calm in frenetic Soho, this cool wood-lined café is a fantastic under-the-radar pitstop for pretty-looking Scandi-style sandwiches and sweet treats – especially squishy, sugary butter buns (and their legendary cinnamon ones). The food goes down equally well with manually filtered coffee, a double-shot latte or a bottle of Nordic's blueberry cordial.Read moreRestaurants, Cafés
Covent Garden
Notes has been here since 2011, peddling its house-roasted single-estate coffees to an eager crowd who pile in to the attractive room for excellent caffeine fixes backed by pastries, salads, charcuterie and Euro-style small plates. With Trafalgar Square just minutes away, Notes is well worth bookmarking.Read moreADVERTISINGRestaurants, Cafés
Spitalfields
Quality and consistency are the reasons why crowds descend on Nude in Spitalfields – even at off-peak times. Some serious attention to food has broadened its appeal, but you can still drop by for pastry and a cup of coffee based on the signature East Blend. Also, check out the Roastery next door.Read moreRestaurants, Coffeeshops
Peckham Rye
Peckham's very own coffee roastery started out in 2014 but soon opened its doors to enthusiastic coffee-loving locals who come here for that freshly roasted espresso experience and interesting filter brews, as well seasonal, single-origin beans. Artisan hot chocolate and teas from Good & Proper are an afterthought.Read moreADVERTISINGRestaurants, Bakeries
St James'
London's love affair with Scandi bakeries continues with this outpost of Danish chain Ole & Steen – and what a feast it promises! Inside, it's super-slick and definitely not hygge, although the food is the star: wonderfully dark chocolate swirls, apple pie, savoury rolls and – best of all – wickedly seductive cinnamon slices.Read moreRestaurants, Cafés
Shoreditch
A major hit with office workers around Silicon Roundabout, Kiwi-owned Ozone made a big deal of its food from the very start and it's got more serious with time – although we also like its coffee (brewed, 'slow-brewed' or espresso). Popularity has risen stratospherically – crowded upstairs, easier downstairs.Read moreADVERTISINGRestaurants, Cafés
Hackney
With tropical-chintz detailing, a veritable canopy of foliage and enough skewed pastels to give Wes Anderson palpitations, Hackney's now-famed Palm Vaults might seem like Instagrammable fluff, but appearances can be deceptive. Ok, dedicated caffeine nerds may baulk (lavender latte, anyone?), but the kooky photo-op drinks and vegan food are great.
Venue says Independent cafe and catering company.Read moreBook online© Rob GreigRestaurants, Cafés
Farringdon
Renowned for its devotion to artisan coffee, Prufrock is one of London's best and is equally distinguished when it comes to filter-type brews or espresso. Food-wise, check the counter display or the daily blackboard. Weekday trade is guaranteed, but Prufrock also makes Leather Lane a serious destination on empty Saturdays.Read moreADVERTISING© Guy DimondRestaurants, Cafés
Soho
A laid-back Soho haven with some of the nicest staff around, Rapha proves there's more to the cycling/coffee pairing than Lance Armstrong-style performance enhancement. The café occupies half the space in a smart cycle clothing shop, with ample seating and a menu that's a cut above – don't miss their elaborate 'super smoothies'.Read more© P LangleyRestaurants, Coffeeshops
London
The new-build exterior and backstreet New Cross location might not scream 'destination' but the Red Lion Coffee Co. is a sterling spot populated by a suitably arty crowd. The food is varied (everything from pastries to stews), there's coffee-making gadgetry for sale and the beans come from Climpson & Sons. Licensed.Read moreADVERTISING© Guy DimondRestaurants, Coffeeshops
Fitzrovia
Born out of Tapped & Packed, this relaxed mini chain (with two cafes in Fitzrovia and another on Wardour Street) gets the formula spot-on: buy good coffee beans and treat them with respect; employ staff who know that a smile means a lot; charge reasonable prices for your sandwiches, salads and cakes. Tap's so satisfying, you won't want to leave.Read moreRichard EhrlichRestaurants, Cafés
West Hampstead
A lovely neighbourhood café housed within West Hampstead's Grade II-listed St James Church, the Sanctuary is now part of a community hub that includes a post office, gift shop and debt-advice centre. Coffee and cakes are all bang on the money. Note: on Sundays, the church is used as a church.Read moreADVERTISINGRestaurants, Cafés
Camberwell
Brought to you by the bean-slinging coffee experts from Peckham's Old Spike Roastery, this gallery-like café in Southwark Town Hall is every inch the modern brunch spot. Geekery is kept to a minimum, and they won't frown if you simply ask for 'coffee with milk'. Cocktails, beers and substantial dishes appear after 5pm. Read moreRestaurants, Coffeeshops
Brixton
Properly passionate about coffee, this cheery corner café in Brixton is the real deal with its single-estate beans and global guests brewed up with just the right amount of obsession. Big windows let in lots of light, while the back room has all the hipster trimmings. Food includes everything from packed rolls to gluten-free cakes.Read moreADVERTISING© Jael MarschnerRestaurants, Coffeeshops
Covent Garden
With its strong caffeine brews, great bakes, light bites, free wi-fi and meeting spaces, Timberyard's cool styling is a perfect fit for Theatreland. Baristas deliver A-grade shots made with beans from Climpson, batch brews come from the likes of Drop Coffee and there's drip-fed Chemex filter too.Read moreRestaurants, Vegan
Homerton
'V' is for vegan (of course!) and this low-key plant-based eatery beneath the Hackney arches is dependably true to its moniker. In addition to faux burgers, wraps and salads, expect plenty of leftfield cupcakes, cookies and layer cakes from the company's own V Delicious bakery – perfect with your chosen sip.Read moreADVERTISINGRestaurants, Cafés
Farringdon
Workshop's original branch caters for crowds of Clerkenwell locals looking for seriously good coffee and seriously good food with a big dollop of buzz. Beans are roasted on-site – try excellent house brands such as Rwandan Gitesi with a slice of St John sourdough and homemade jam.Read moreRestaurants, Cafés
Mansion House
Although the Wren church of St Nicholas Cole Abbey was blitzed during WWII, it's still a striking spot, especially if you're after some relaxation and a shot of heavenly espresso in a busy City precinct. Simple lunchtime sustenance features soup, salads, quiches and home-baked cakes.